Install IPTV Smarters on FireStick Android and iOS 2023.
Install IPTV Smarters on FireStick and Android devices (2023).
Last updated By: Patrick
This tutorial will teach you how to install IPTV smarters on FireStick. (Fire TV Stick, Fire TV Cube & FireStick HQ). I've also included quick ways to install IPTV Smarters for Android TV Boxes (Smart Android TVs), iOS devices (iPhones, iPads, & iPods Touch ).
IPTV smarters, also known as IPTV Smarters pro is an IPTV platform where you can access playlists of channels from multiple IPTV subscribers. It's a kind of IPTV management tool, similar to Smart IPTV. IPTV Smarters, unlike Smart IPTV, does not require a one-time fee for activation. There is also a paid version with more features.
IPTV Smarters Pro is not an IPTV service. It does not have its own playlist or host any channels. You will need the login credentials from another service to use this service. You must have an IPTV subscription to use IPTV smarters on FireStick or other devices.
IPTV Smarters only works with IPTV services which support M3U Playlists and/or have an Xtream Codes api.
IPTV Smarters allows you to login with multiple IPTV subscriptions. IPTV Smarters allows you to access multiple IPTV subscriptions from one place. The app is also very user-friendly, allowing for a smooth streaming experience.
IPTV Smarters allows you to install and use the EPG, if included in your IPTV subscription.
Attention FireStick users!
Your online activities are constantly monitored by governments and ISPs. Accessing copyrighted material on your Fire TV Stick can lead to serious problems. At the moment, everyone can see your IP address 105.158.29.215. I highly recommend that you get the FireStick best VPN in order to hide your IP address, and stream securely.
I personally use expressVPN the fastest and secure VPN available. It is easy to use on any device and comes with a 30-day money back guarantee. You can also get a refund if you are not satisfied. ExpressVPN offers a staggering three extra months for free with their annual plan.
Use a VPN all the time for these reasons.
Read How To Install and Use Best VPN For FireStick
Installing IPTV Smarters on FireStick
Amazon Store doesn't host IPTV Smarters Pro, even though it is available on Google Play Store or Apple App Store respectively for Android and iOS smartphones. If you want to install it on your FireStick you'll need to sideload. Download IPTV Smarters using the Downloader application.
Disclaimer: This is an educational tutorial. FireStickTricks.com does not own, operate, resell or distribute any streaming applications, addons or websites, IPTV, or services. We are not sure if the services listed on this page have legal distribution rights. FireStickTricks.com cannot verify each app's legality in every region. Use only verified apps/services and stream content from the public domain. Media accessed by the end-user is solely their responsibility.
1.Install first.
This app allows you to sideload IPTV on FireStick, as browser downloads aren't allowed.
Read our guide to Sideloading apps with Downloader on FireStick.
2. Click on the Search > Find option in the FireStick home screen.
3.Type in the name of the application (which is downloader).
When the search results are displayed, click the Downloader link.
Select the Downloader on the next screen to download and install the application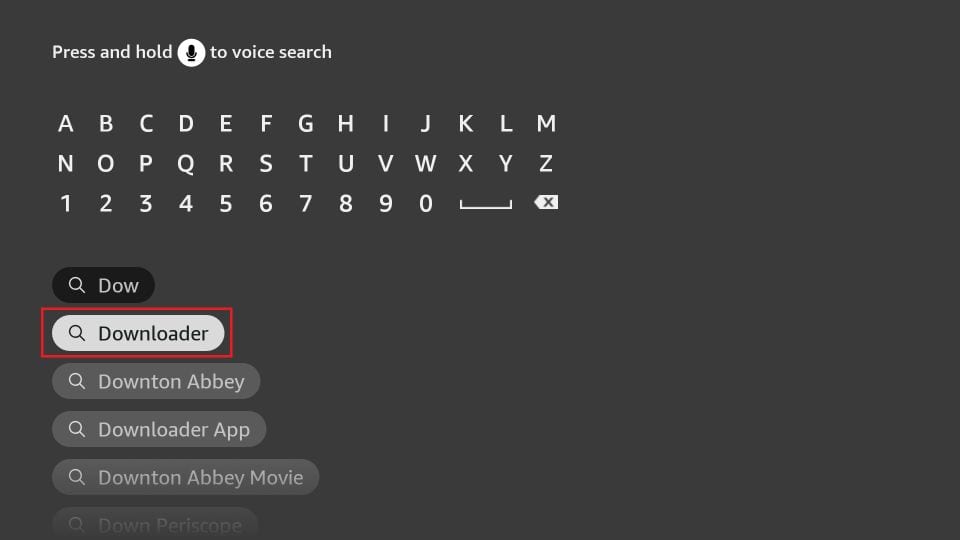 4.Return to the FireStick home screen after installing the Downloader App
Click Settings in the menu bar.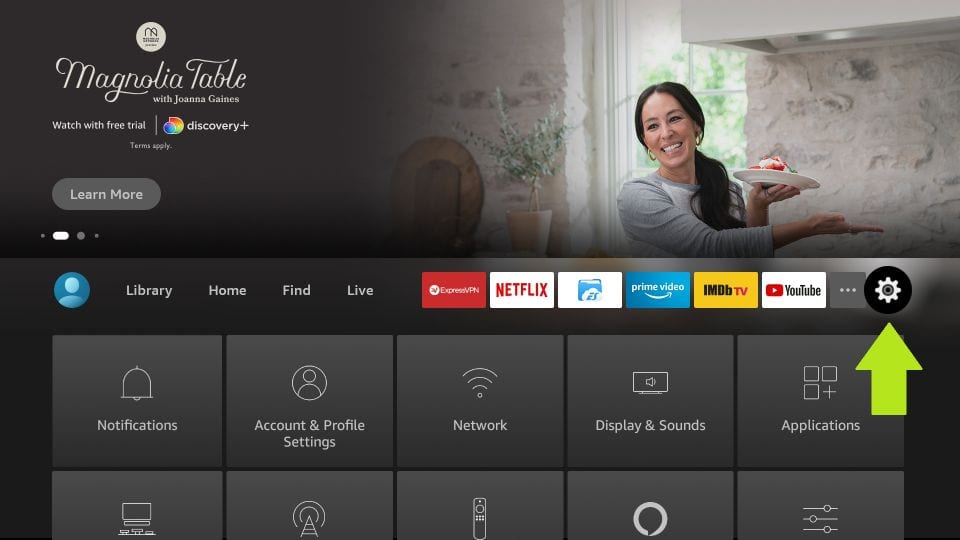 5.Select the My Fire TV option in the Settings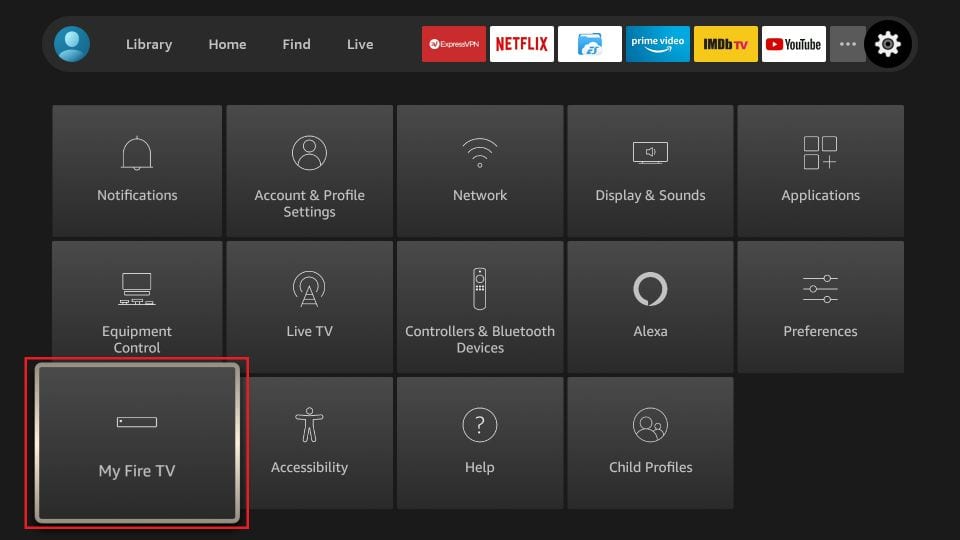 6. Click Developer options when the next set of options is displayed.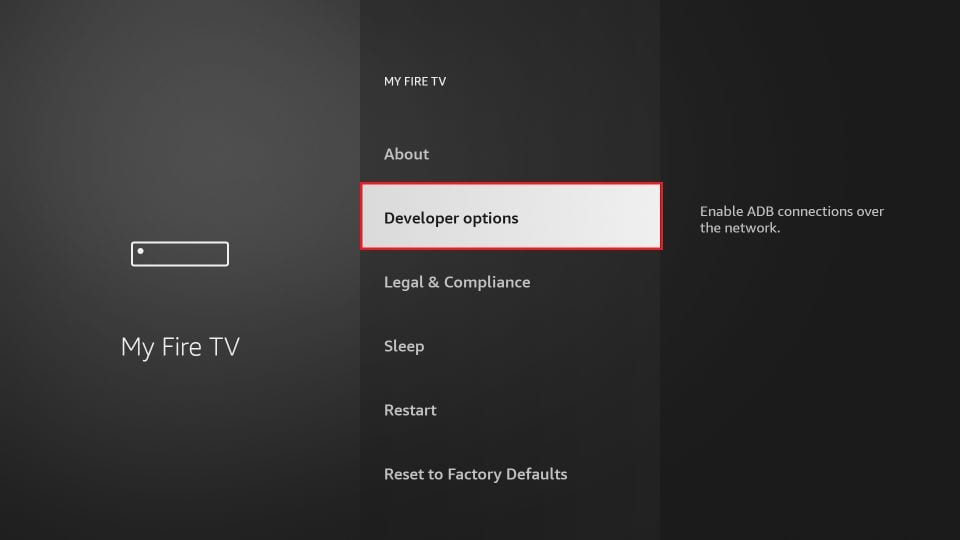 7.Click Install unknown apps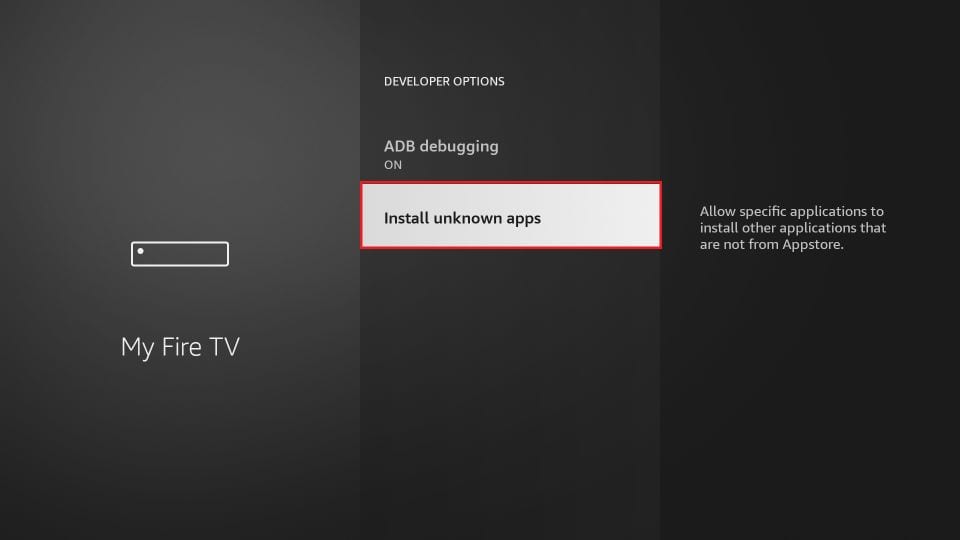 8. Click downloader in order to change the status of ON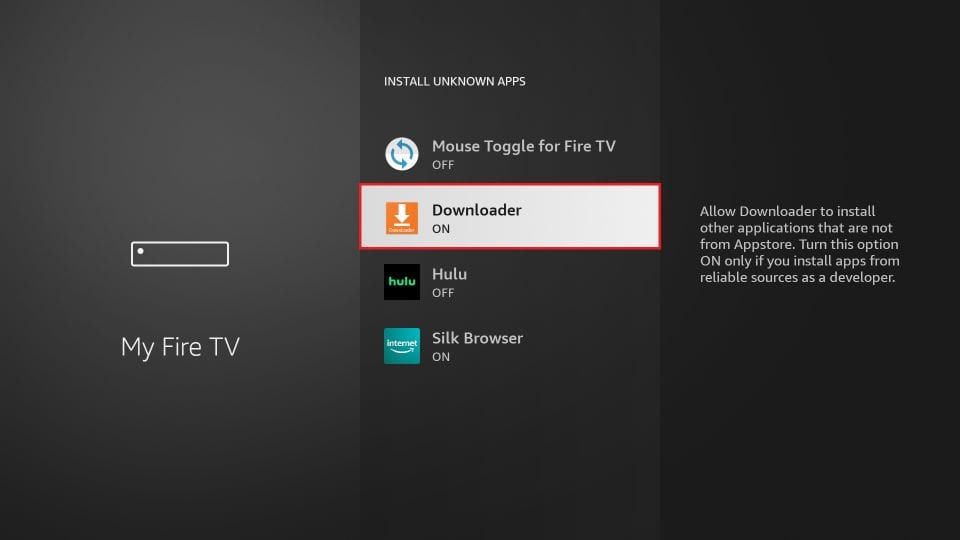 You have now configured FireStick to allow IPTV Smarters, as well as other third-party applications. The steps are below:
Open the App now.
9.You will see a series of prompts when you launch the app for the very first time. You can ignore them until you reach the next screen
Click the URL textbox in the right-hand corner (make sure Home is selected from the menu on the left) where it says "http ://'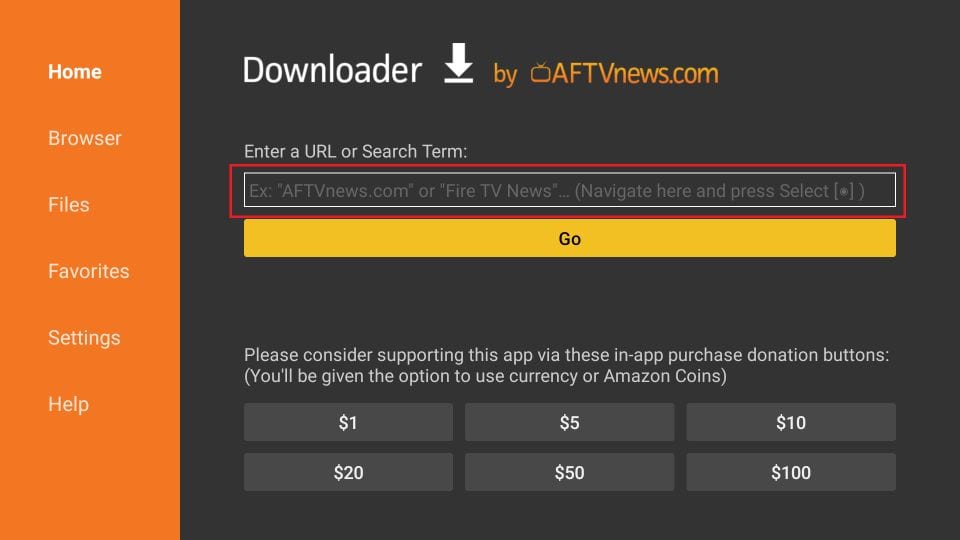 10. Go ahead and enter the following path on this window: https://www.firesticktricks.com/smarter
Note: You may also use the shortened version of the URL firesticktricks.com/smarter
Click to GO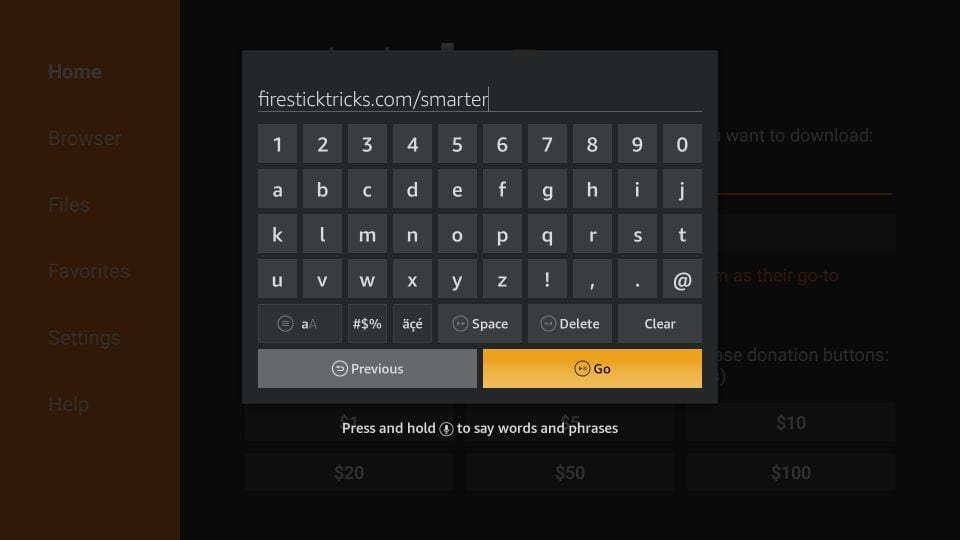 11. Wait a few minutes until IPTV Smarter has been downloaded to your FireStick.

12. After the download is complete, the Downloader will launch the APK and start the installation.
Click Install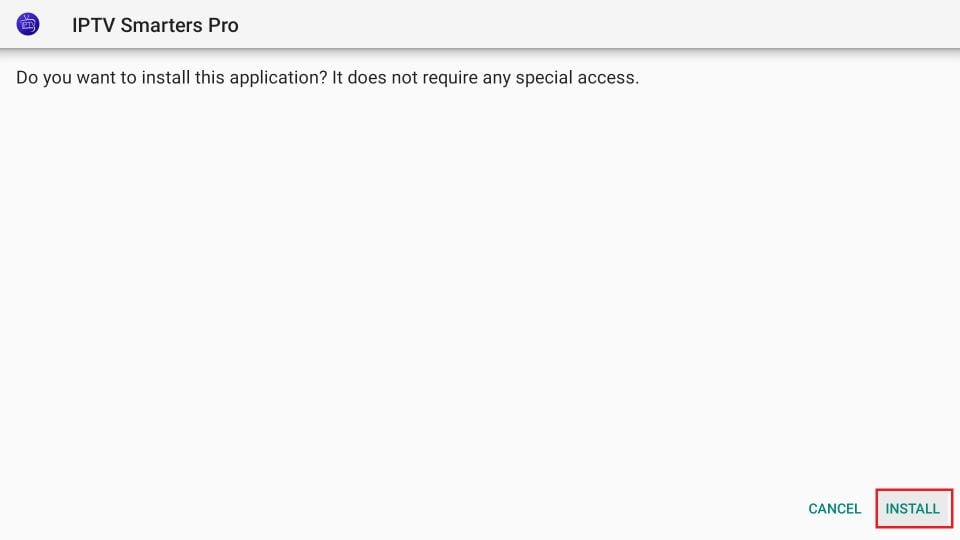 13.Wait until the installation is complete.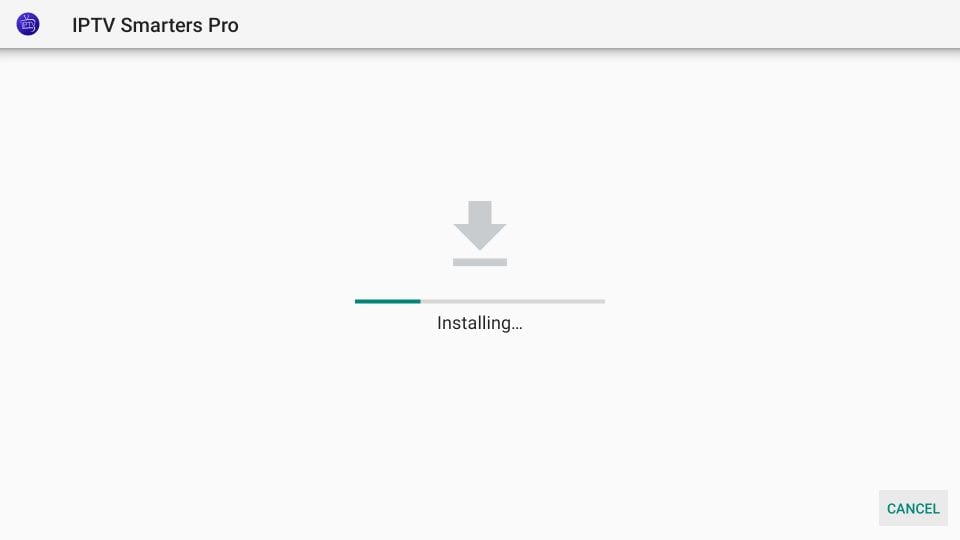 14 Installation completes with app installed notification
Click OPEN to get started with IPTVSmarters.
You can delete the APK files by selecting DONE. This will save space on your FireStick.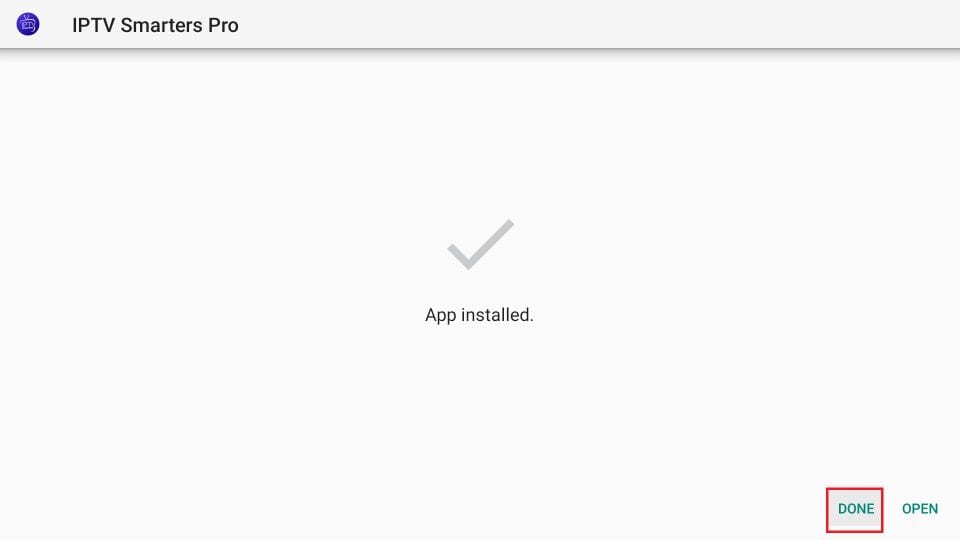 15 Clicking DONE will return you to the Downloader interface.
Click to Delete

16. Click again to delete

Great! Now you can enjoy IPTV Smarters on your FireStick.
How to use IPTV smarters on FireStick
Note: Please refer to the following section if you wish to learn how to install IPTV Smarters on FireStick or any other apps.
IPTV Smarters does not have its own channels. It's just a facilitator that lets you stream the channels you already have access to via IPTV service providers.
To use IPTV Smarters you must subscribe to at least one IPTV provider.
The first window you see when you launch the IPTV smarters app is Terms and Conditions. Scroll down to Accept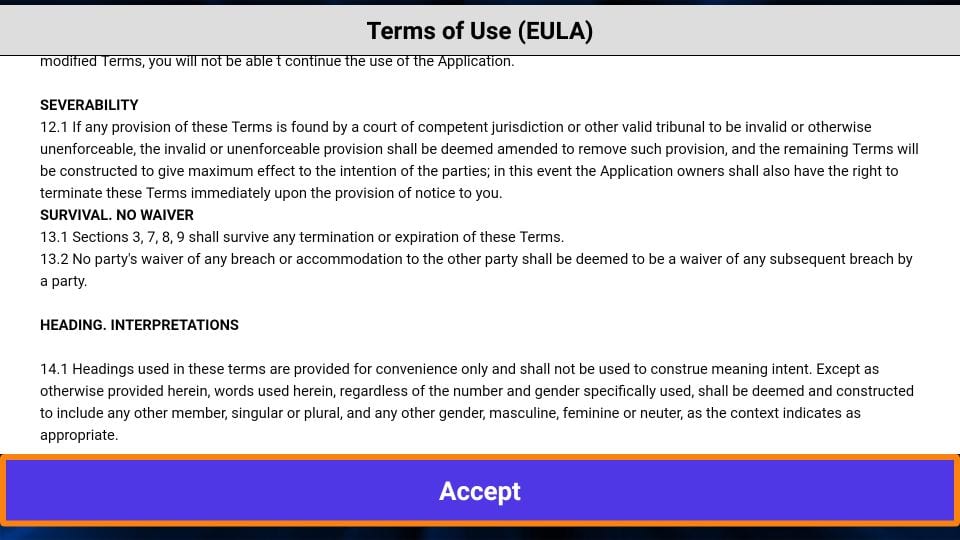 You will land on this window next. Click ADD USERNAME at the top right corner of the screen or NEW USER located in the middle.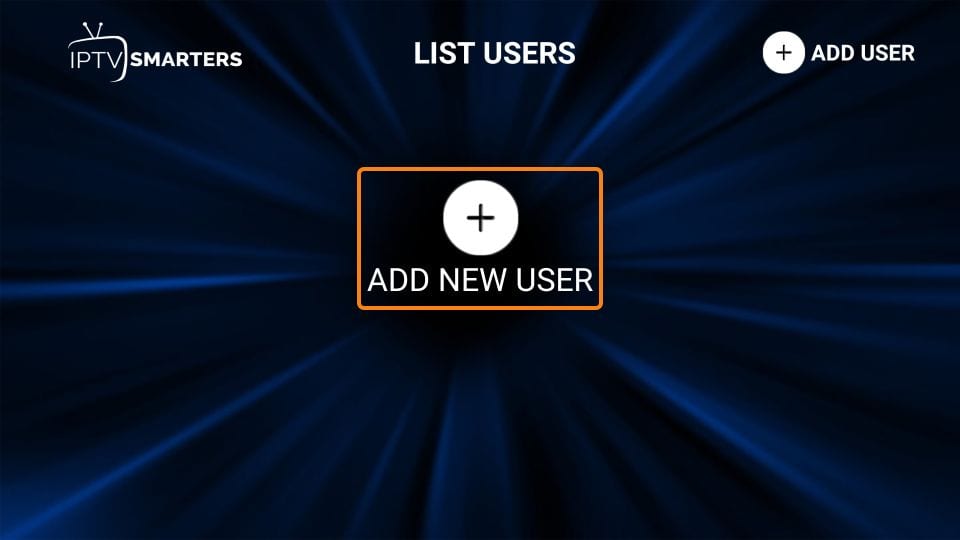 IPTV Smarters offers two different ways to sign into your IPTV service
Load your Playlist or file/URL

Login using Xtream Codes' API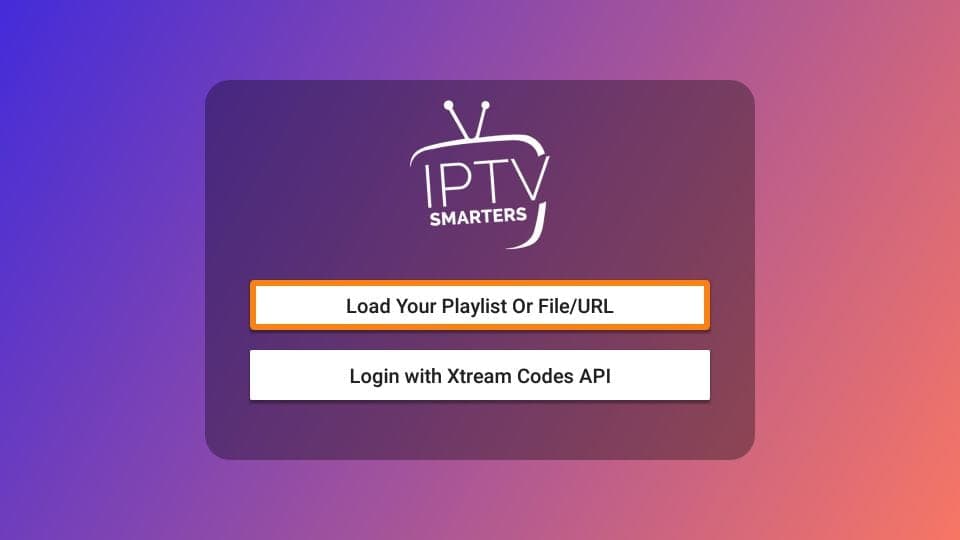 You can load your Playlist, File/URL or a file.
IPTV Smarters requires that your IPTV service supports the M3U Playlist. Not all IPTV services support M3U playlists.
Once you've purchased the IPTV subscription, you will receive an email with login information. The email will also contain links to the M3U playlist and EPG. You can contact Us if you have not received the links.
The app will ask for permission if you select the Load Playlist option or the File/URL. Click Allow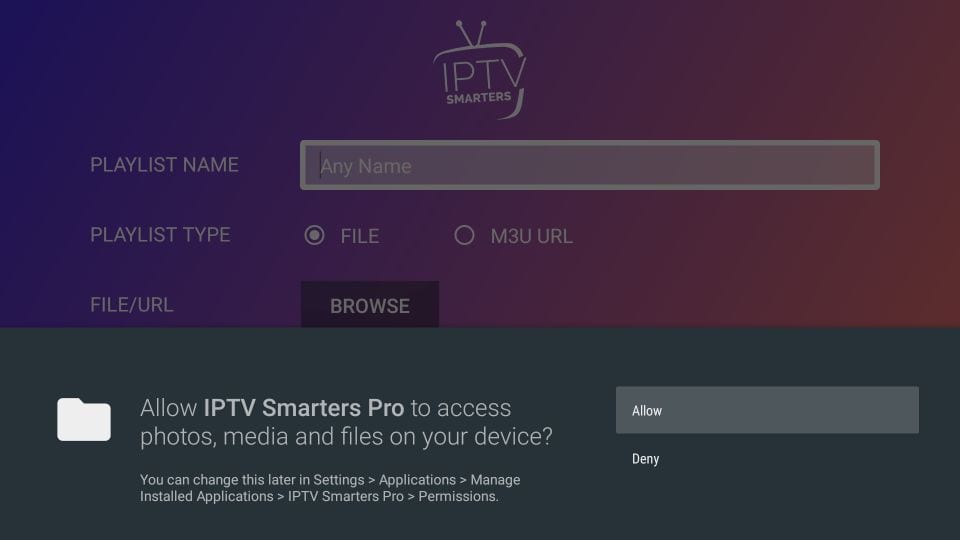 This is where you enter the M3U link. Select the M3UURLradio option in the Playlist Type section.
Type any name in the Playlist Title section
Type the M3U URL in the File/URL Section.
Click Add User to add a user.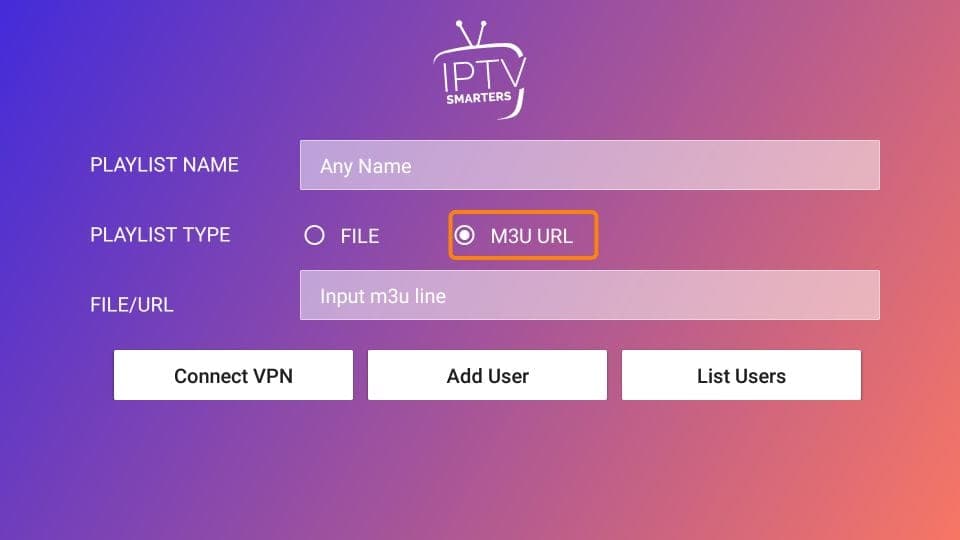 Login using Xtream Codes' API
The M3U playlist URLs can be long and hard to type, especially when using the FireStick Remote.
Instead, I would recommend that you use the Xtream Codes API. These are easier to type and shorter.
The Xtream Codes website has been removed and I'm not sure if API Codes are still working.
We will send you the Xtream codes API along with your M3U Playlist URL in an email. Contact us if you have not received the codes.
You can enter your information in the following window when you click Login using Xtream Codes Xtream API: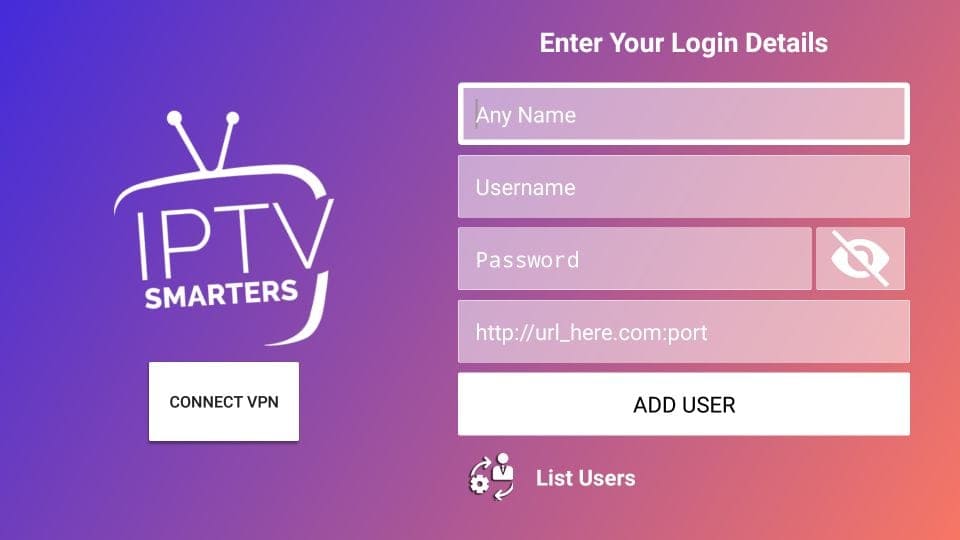 How to use IPTV Smarters with FireStick
This section is intended for users who wish to learn how to access IPTV smarters or other installed FireStick apps.
You can find up to 20 apps installed on FireStick's home screen by clicking the section in the second column. Here are some ways you can access all your apps if you have more than twenty installed.
– Open the application by going to Settings > Applications >> Manage Installed Apps >> IPTV Smarters or any other app installed.
OR
Press and hold the HOME key on your FireStick for at least five seconds. Click Applications in the popup.
OR
Click the 3-Dot Button in the middle of the screen on the right.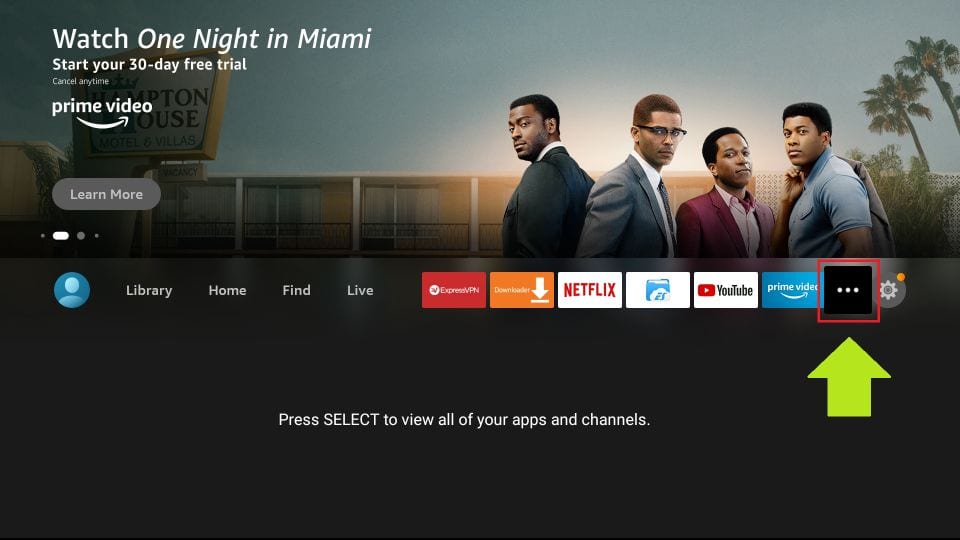 Scroll down to the IPTV smarters section.
Press the em>Menu/em> button on the remote (3-line button). The Menu is accessed by pressing the 3-line button. In the popup menu at the bottom right, click Move to move the cursor on the screen.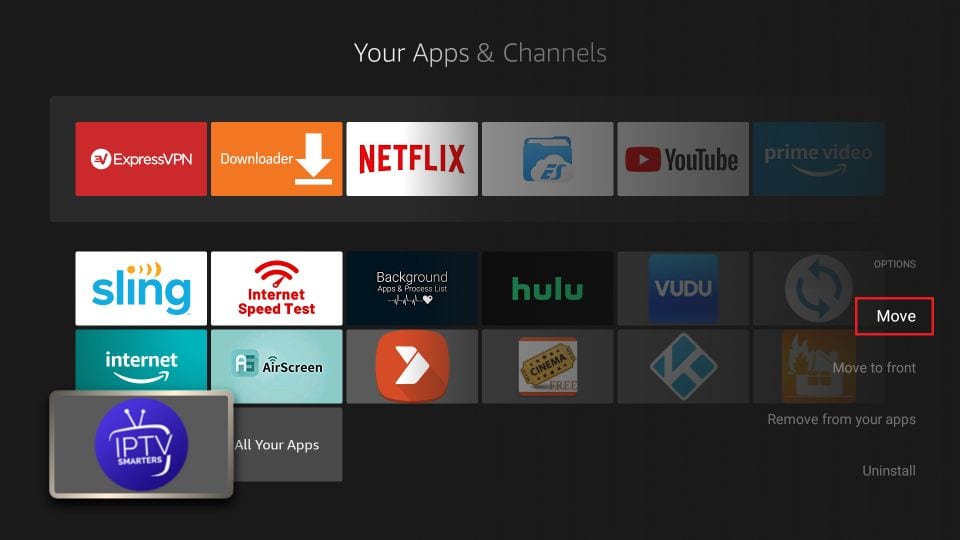 IPTV Smarters for Amazon FireStick: Quick Overview of Features and Benefits
These are important points to remember:
It does not host any of its own channels.

 

You can only use the interface to access channels provided by other IPTV providers.

IPTV Smarters requires that you have at least one IPTV subscription.

IPTV Smarters allows you to login using the M3U playlist URL, Xtream codes API or your service provider's API.

Multiple IPTV subscriptions are possible

IPTV Smarters allows you to manage multiple IPTV subscriptions in one place, without the need to install separate apps.
Installing IPTV Smarters for Android Mobiles, Android TV Boxes and Android Smart TVs
IPTV Smarters supports other Android platforms, such as mobiles, TV boxes, and Smart TVs.
IPTV Smarters can be downloaded from the Google Play Store.
You don't have to sideload IPTV Smarters on these devices.
Note that this app is also available on some Android boxes as IPTV Smarters PRO
Installing IPTV Smarters for Android, TV Boxes and Smart TVs is easy.
Google Play Store is now available on your Android device

Search for IPTV Smarters by typing in the app's name.

Install the app by following the instructions on the screen
IPTV Smarters works the same on all Android devices and Amazon FireStick. To learn more, you can refer to the How IPTV Smarters works on FireStick section.
How to install IPTV smarters on iOS devices (iPhones, iPads, and iPod Touches)
Apple App Store is now officially home to IPTV Smarters. Install the app by following the instructions below:
Apple App Store: Open it on your device

IPTV Smarts: What to Know

Install IPTV Smarters by following the instructions on the screen

Launch the app directly from your iOS home screen
Log in with your FireStick credentials or Android device to IPTV Smarters.
Wrapping up
IPTV Smarters allows you to easily access your IPTV service from one location. It is not necessary to install each app separately. This app can also be used for IPTV services with a less user-friendly interface.
This guide will show you how to install IPTV Smarters Pro using the sideloading method. You can download this app from the official app store if you have an Android device, Android TV Box or Android-based smart TV.